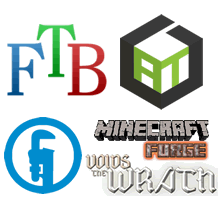 Modpacks and Minecraft Server Hosting: Choose Memory
Choose from the large selection of Vanilla, Snapshots, CraftBukkit, Spigot, and Modded minecraft. Including ATLauncher, Feed the Beast, Technic Pack, Curse.
If you can't find what you're looking for click to contact support know!.
Six Locations USA, Canada, United Kingdom, France, Australia and Singapore for the best connection.
Unlimited Slots
Free Modpack and Vanilla Upgrades
Free Plugin Installs
BungeeCord Compatible (Ask Support)
One-Click Multiservers (3 servers in 1)
Custom Modpacks (Send us your files!)
Fully Managed Server Support
1.5GB Modpack and Vanilla
2.5GB Modpack and Vanilla