Multicraft Control Panel
The Mission Control Centre For All Your Minecraft Operations
Check out the guide below as well as the video tutorials, to learn how to make a custom mod-pack for you and your friends!
Discover the power behind this custom Multicraft build. Follow the overview and video tutorials
Summary
Features
User Friendly, perfect for novices with enough features to keep power users happy too
Customised Many tailor-made modules to improve your experience
Smart Device friendly, Keep track of your server on the go!
Manage Multiple servers From just one control panel
User Accounts Set Co-owners, Moderators and more
More about Multicraft
Multicraft is a full server control system designed to make things easier for server owners. There are many features explained on this page and each aspect of the panel is designed with you in mind. From managing multiple servers to assigning staff for your worlds and even switching between different mod-packs with ease, Multicraft provides easy access to it all. Keep reading for information and video guides on all the different functions that it can provide for you as a server owner.
Features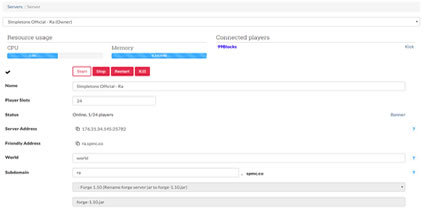 Server Page
From the server page you will have a full overview of your server, no surprises there. However from this page you can access all the other features that Multicraft provides.
Chat/Console/Players
Each of these pages provide a look at different functions on the server. These are covered down below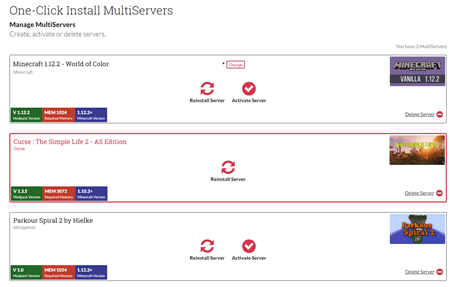 One-Click Install
It couldn't be easier to change your server to something completely different! The one-click installer will let you jump between up to three different server "instances" in a flash!
File Management
Full FTP control is offered directly through the Multicraft panel. With this, you can directly edit and adjust your configurations, worlds and everything else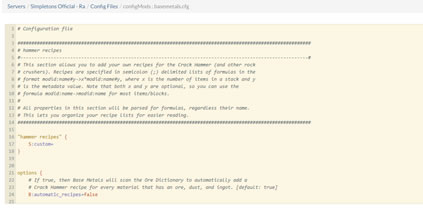 Advanced features
There are many advanced features that can be accessed through the control panel, these are explained down below
Custom Modules
The tech-stars at StickyPiston work tirelessly to provide a customised and improved experience for our users. Details can be found down below
Server Page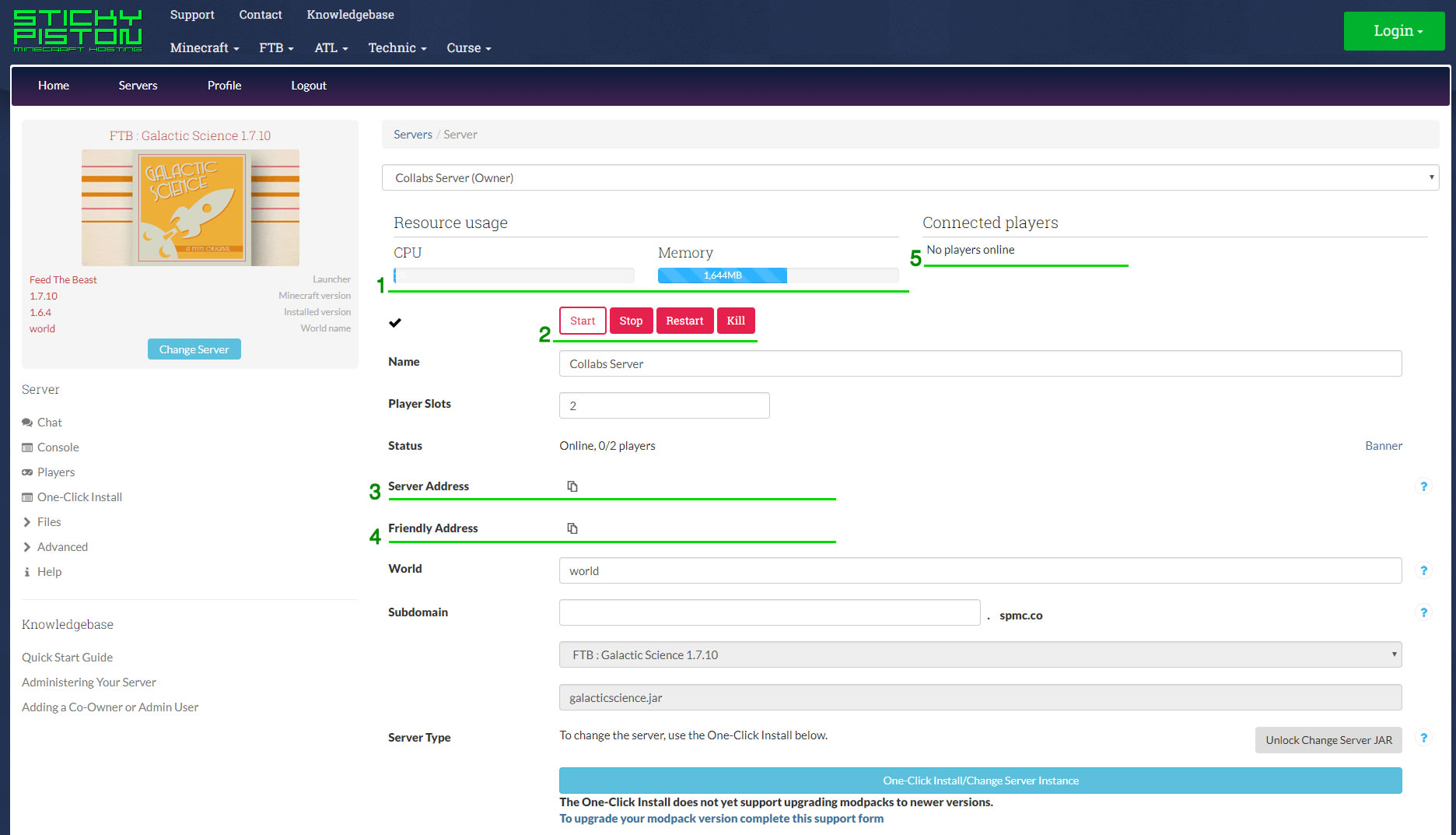 Overview of server
This is the server page that you will see when you first log in
1. Your CPU and RAM usage
Percentage is based on your current server package
2. Start/Stop/Restart/Kill
All server commands that can be used to change the state of the server
3. Server IP
This is your unique address that can be shared with friends to connect to the server
4. Friendly Address
If you want something more personal for your server then why not set up a friendly address instead of the IP
5. Player List
View all connected players and kick people that shouldn't be there
Player Management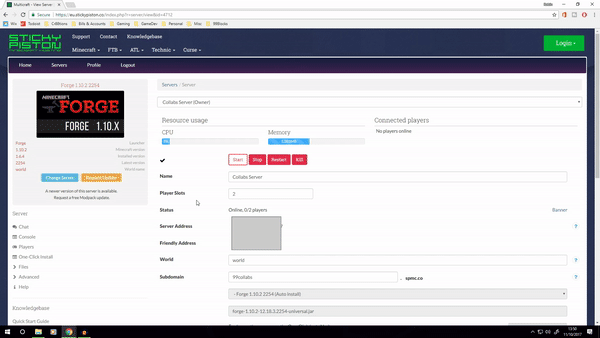 Chat
The chat page will let you directly interact with your players in-game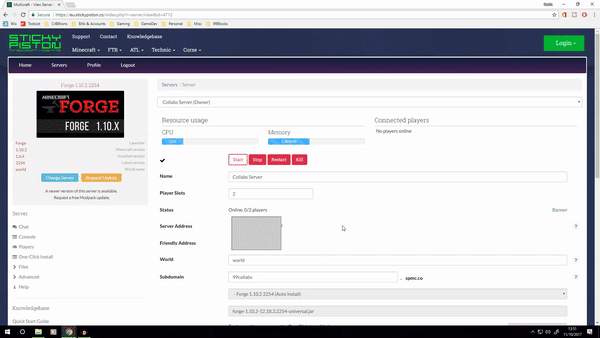 Console
The console page will show a list of commands and server processes so you can track what is happening on the server at all times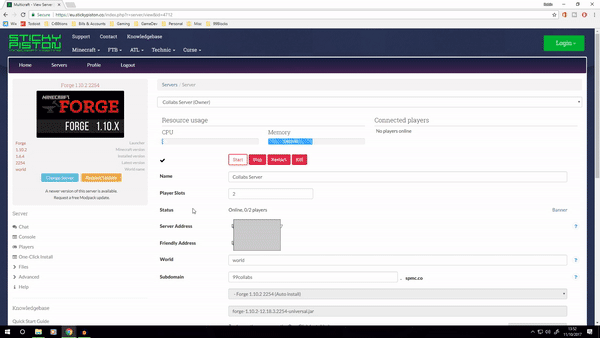 Players
The players page allows you to see all the people that have logged into your server and even assign them roles as moderators. See below
Multi-servers
One-Click Installer
The one-click installer is a tool that is extremely useful. Essentially, with your server order you have the capability to run three different "instances" at any one time.
As a server owner you can access this feature to easily switch between mod-packs from different launchers, Vanilla versions of Minecraft, Adventure maps and more.
Our full catalogue can be found by following the links at the top of the page using the drop-down menu for "Minecraft" "Curse" "Feed the Beast" and all the other options.
We currently provide support for:
Vanilla Minecraft version 1.2.5 up to the latest build
All the Mod-Packs for FTB, Curse, Technic, and ATLauncher
Forge and Cauldron for mods support
Spigot and CraftBukkit for plugins support
Bungeecord Networks 1.4.7 to 1.12.2
Minecraft Java edition
Sponge
And even custom made mod-packs! (Check out this page)
Advanced Features
Scheduled tasks
Set up and manage a variety of tasks in your control panel.
Run them as an Admin, broadcast to the server, check the time and so much more
Commands
Assign players a role and give them access to certain in-game commands.
No permissions mod or plugin is needed, Multicraft handles it all for you!
Users
Allow your fellow server admins to access your FTP and edit server files for maintenance, updating and even downloading for tools like MCEdit