Attack of the B-Team Server Hosting
Released January 2014
Technic Pack
V 1.0.12a
Minecraft 1.6.4
MEM 2GB+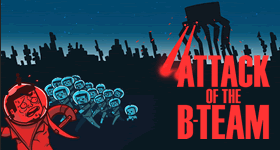 Attack of The B-Team Server Modpack was designed with one thing in mind, crazy mad science!
With the help of the B-Team we hand picked the wackiest mods we could find and shoved them all in a modpack for you guys. The result is Attack of the B-Team Server!
This is the hit mod pack of this year, and is the entrance mod that got so may minecrafters into modded servers, the mods in this B-Team pack are not too serious, they have a fun edge to them which make you go wow! You will get to grips with these mods quickly.
The mods terrain generation is amazing using the Biome's O' Plenty mod to make exploring around this mod so refreshing. This modpack comes with the latest MCPC+, which improves the servers performance and allows plugins to be installed.
Attack of the B-Team comes with Essentials plugin installed already! So you can /sethome, /tp, /give, /heal and also set the spawn. There are so many more commands you can find here
Get your  Technic Attack of the B-Team Server Hosting today…
Come and Join us on our Public
Attack of the B-Team Server
EU Attack of The B-Team 20 Slots 3.5GB
Server Address : bteameu.stickypiston.co
US Attack of The B-Team 20 Slots 3.5GB
Server Address : bteamus.stickypiston.co
Order Technic Pack Attack of the B-Team Modpack Servers
Instant setup, No Extra Costs or Waiting… Unlimited upgrades & Reinstalls …Not forgetting Support Included
Use Promo Code FEB10 for 10% off for 3 months hosting.
(Click to Activate 10%)
Dedicated RAM
1GB
1.5GB
2GB
3GB
4GB
5GB
6GB
7GB
8GB
Monthly Cost
$10
$15
$20
$30
$40
$50
$60
$70
$80
£6.50
£9.75
£12.95
£19.50
£26
£32
£38
£44
£50
€9
€13.50
€18
€27
€36
€45
€54
€63
€72
* Recommended Max Players
24
24
36
48
60
72
84
96
Useful Server Modpack Links
Attack of the B-Team Memory Requirements
For good performance order a minimum of 2GB of memory, for best performance 3GB+. Ignoring this will cause lag and out of memory errors. If you don't order enough we'll message you, You can quickly upgrade.

* Recommended Max Players is the max set in Multicraft. Max players isn't guaranteed since modpack & plugin memory requirements differ greatly between servers. Ignore hosting claims of X players per GB, this used to work pre 2013!