If you have a custom domain name and wish to link it to your Minecraft server so that players can connect with it directly, this guide will take you through the process.
---
Contents
---
Do you have a Custom Domain Name?
You can get a custom domain setup to show off your server in minutes.
Various companies sell custom domains and it is entirely up to you which one you choose.
StickyPiston also offers custom domains for our users, so if you are hosting a server with us, this may be the best and easiest way to have a custom domain setup on your server

Setup my Custom Domain with StickyPiston
Some other popular options include:

Whichever option you choose, make sure you have a paid for and usable domain name.
We recommend setting up automatic payments as this will prevent any sudden loss of access if the domain runs out
---
Adding an SRV Record
To get your custom domain linked to your Minecraft server you will need to setup a custom SRV record.
This will allow players that are trying to connect through a Minecraft launcher to do so with your custom domain.
These can be imposing to look at and understand at first glance and each domain hosting company will have slightly different setups to go through. There are a few common similarities between them though:
You will need to be accessing your DNS settings
Every host uses SRV records to add new points of connection
This should be a free service as part of your domain name cost
This is an example of the DNS page on Namecheap. Most hosting companies will look similar.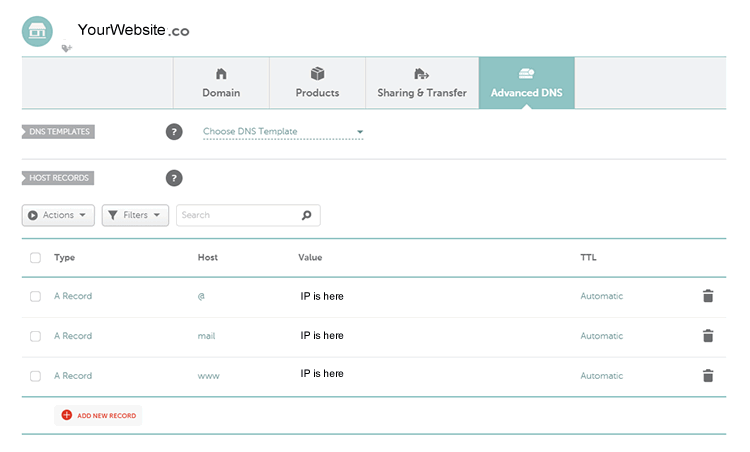 Because every host uses slightly different systems, it is not possible to give a definitive step-by-step guide on the process, however, each of the hosting companies have their own Knowledgebase articles that go into the steps required for creating a SRV record with their services. Remember that with StickyPiston, we can handle all the setup for you.
---
Get help from StickyPiston support
Throughout the process, whether you are hosting your domain with StickyPiston or not, we are always happy to help.
Our technical team is always available to assist with custom domain setups and can guide you through the steps.
Just open a support ticket and we will gladly get you setup with your custom domain name.

Open Support Ticket
---
Further Reading and External Links