This article relates to an incompatibility between the Archimedes Ships mod and blocks added by other mods. It may also provide a solution for crashes caused by riding other objects.
If you have build an Archimedes Ship using Carpenters blocks, the client will crash when you take control of the helm. Attempting to rejoin the game will result in a crash.
Fix 1:
After clicking connect to join the game, repeatedly hit the 'shift' key. If you are fortunate you will leave control of the ship.
Fix 2:
When you take the helm of a ship, the ship becomes part of your player's meta-data. The game will save this into your player's save file located in:
/<world>/players/<player_name>.dat
This file is in the NBT format and can be edited using the NBTExplorer tool: http://www.minecraftforum.net/topic/840677-nbtexplorer-nbt-editor-for-windows-and-mac/
You can remove the Archimedes Ship data from this file as follows:
Download and run NBTExplorer
Download the .dat from your server: FTP Access to Download and Upload files
Rename the .dat on your server to .dat.backup (in case you make a mistake)
Open the .dat file: Open>File...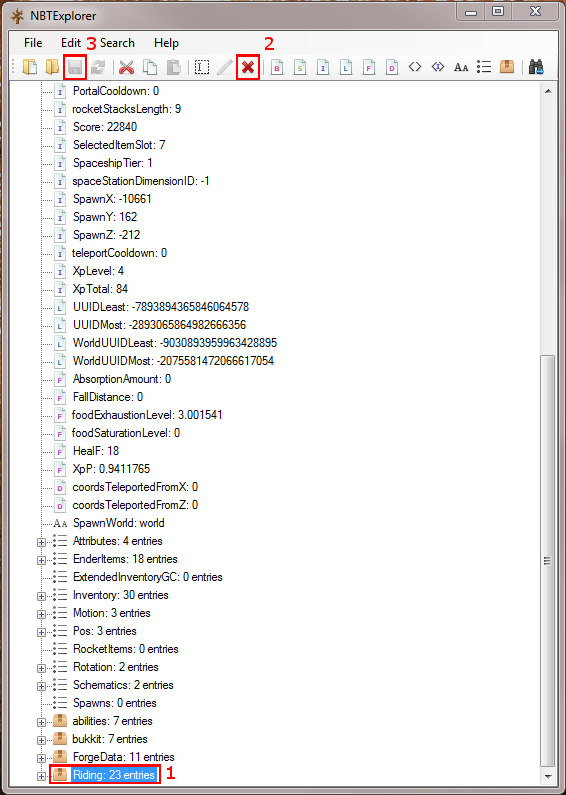 Scroll down and look for the 'Riding' entry: Click on it once to highlight it [1]
Delete the entry: Click the delete icon on the toolbar [2]
Save the changes: Click the save icon [3]
Close NBTExplorer
Upload the .dat back to the server
Fix 3:
One option is to delete or rename the .dat file. This will wipe that player's progress and inventory.