Every server owner has access to the 1-Click Server Instance Manager through their Multicraft panel.
This can be used to change/install/uninstall a Minecraft server yourself.
---
Contents
---
An Example
Instances are just different versions of Minecraft or Mod-packs. They can be anything you like and we will always provide support for finding and installing versions or Modpacks that are not in our library yet.
You can switch between any type of Minecraft server with ease.
For example, you could have a set up like the one here:
Instance 1: Custom Modpack you have made.
Instance 2: Vanilla Minecraft.
Instance 3: Bukkit Server with plugins.
These can mixed and matched as you like. So you could have three of your own packs, different versions of Vanilla Minecraft, your two favourite modpacks and one with plugins or any other combination.
---
Installing a New Server Instance
Use the steps below to install a new server instance
Open the Multicraft server panel. (This displays the pack logo, player slots, RAM usage and other items)
Click the One-Click Install/Swap Server Instance button.

Click the Instance Options button and select Reinstall to install in your current instance slot.

Or click Add New Server in an empty slot to add a new instance.
Use the search box and launcher filters to find the instance you wish to install.
Some Minecraft servers require more memory than others to start and run lag free
If you want to guarantee a smooth server experience then tick the box next to `Only show servers I have enough RAM for (Your RAM Amount is here)
To play servers not available to your package you can upgrade your memory:
Upgrading and Downgrading your server memory.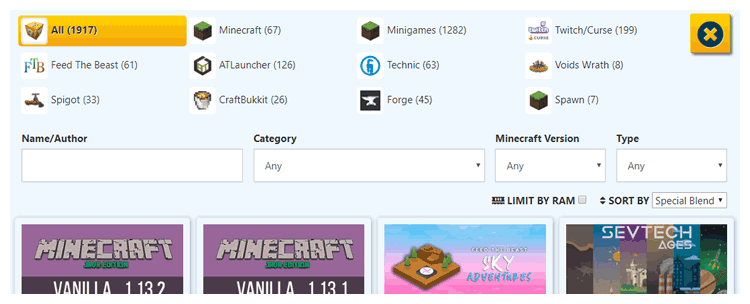 Click the image of the instance you wish to install and then click the Install Server button.
This can take between 1-3 minutes depending on the size of the server.

Click the Manage Button to take you back to the Multicraft Server Panel.

Start your server.
---
Changing Between Server Instances
If you have more than one instance installed on your server you can use the Instance manager to switch between them with ease.
This allows you and your friends to play different types of Minecraft in minutes.
Follow these steps to switch between instances:
Click the One-Click Install/Swap Server Instance button.

Click the Instance Options button and select Activate to make that instance active.

Click either the Server name or the Back button to return to the Multicraft Server Panel.

Start your server.
---
Server Version Updates
Modpacks are constantly updating and you can request an update to one of your instances from within the Instance manager to make sure everything stays up to date on all your instances.
If a server update is available you will see the Update to version button in your instances list.
Click this to send us a support ticket and our technical team will update your server version for you.

---
Additional Tasks
There are a few additional functions of the One-Click Installer that will make managing certain instances even easier.
Changing Vanilla Minecraft Versions
If you are playing on a Vanilla Minecraft instance, you can switch between versions with the dropdown menu in the Instance Manager.
The instance will use the world that has already generated. Changing to older versions will remove all newer blocks.
For example; Terracotta from Vanilla Minecraft 1.12 will be removed from the world if the version changes to 1.11 or below.
Simply click the box that displays your current Vanilla Minecraft version to select any available version from the list.

Installing Minecraft Maps
StickyPiston has a large range of Minecraft Maps & Mini-Games available to all our server owners.
To access and install these, simply select Minigames from the server options at the top of the screen.
Select and install each minigame in the same way that you would for a modded Minecraft or Vanilla instance.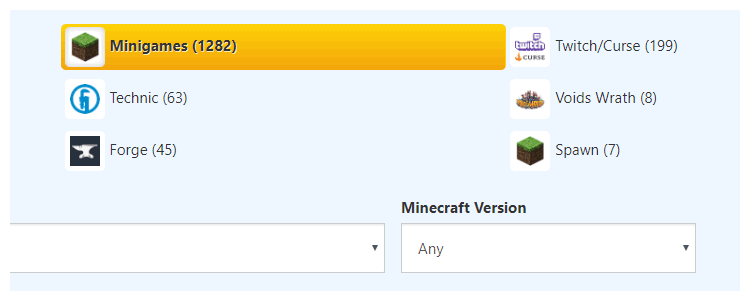 ---
StickyPiston Support
Whether you own a Server with StickyPiston.co or don't, we are always happy to help with any technical issues you may be having. Open a support ticket with our team and we will be in touch.

Open Support Ticket
---
Further Reading and External Links