A whitelist can be used to limit which players can join your server.
This is ideal if you want to host a private server for just you and your friends.
---
Accessing the Whitelist through Multicraft
Open the Multicraft server panel. (This displays the pack logo, player slots, RAM usage and other items)
On the lefthand side click Edit Server Configuration.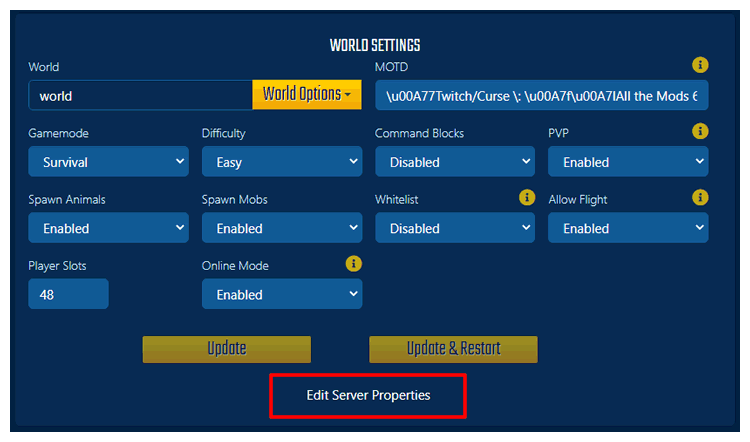 Change the Whitelisting option to Enabled.
Click Save at the bottom of the screen.
Return to the Multicraft server panel.
Click Console on the lefthand side.
In the text entry box enter the following commands and click Send to use them on the server.
whitelist on : Activates the Whitelist.
whitelist off : Deactivates the Whitelist.
whitelist list : Prints a list of all players currently able to access the server.
whitelist add <playername> : Replace <playername> with the players Minecraft username to add them to the Whitelist.
whitelist remove <playername> : Replace <playername> with the players Minecraft username to remove them from the Whitelist.
whitelist save : Saves the current Whitelist to the configuration file.
You can also save the Whitelist by restarting the server.
If a player is removed from the Whitelist while they are on the server, they will be disconnected.
---
Accessing your Whitelist using in-game Commands
If you are an OP on the server (See: How to OP a Player on your server), then you can use the following commands in game.
To start typing a command simply press the / key.
This is required before a command otherwise it will send as a chat message in-game instead of executing as intended.
/whitelist on
/whitelist off
/whitelist list
/whitelist add <playername>
/whitelist remove <playername>
---
StickyPiston Support
Whether you own a Server with StickyPiston.co or don't, we are always happy to help with any technical issues you may be having. Open a support ticket with our team and we will be in touch.

Open Support Ticket