Made by Mlakuss
Source : Planet Minecraft Download the game
MC Version : 1.8
Players : 1 – 8
A huge thanks goes out to Mlakuss for allowing us to publish Replica Mingame as part of the 24 Days of Minigames over Christmas and the holiday season. This game so much fun, go and grab your friends and play this one, who's the fastest?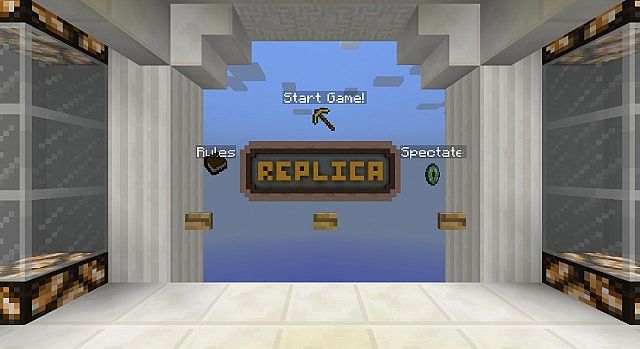 Objective
Copy the picture displayed on your screen as fast as possible
The last player who did not copy the picture loose a life.
If more than one player did not finish to copy the picture in 3 minutes, they loose a life.
Easy, no ?
The picture
More than 80 pre-made pictures!
Players can create their own!
Super Items (optional)
If you want more interactions between players, you can enable Super Items
– Each item has a specific effect (freeze players, instant win…)
– You can use one item per round, each item is unique (per game)
Settings & Others
Settings
– Right-click a sign to enter the "settings area" and change the number of lives, enable items and more!
Spectator mode
– When you die, you automatically enter "Spectator mode"
– Spectator mode is also available in the lobby if you play with more than 10 players
Connection & Deconnection
– If a player join the server during a game, he will enter spectator mode and be teleported to the play area
– If a player leave the game, he is automatically eliminated (sorry)