Using an FTP client [Filezilla]
Log in Using Quickconnect
Simply enter the Host, Username, Password and Port values for your FTP server into the bar at the top and click the 'Quickconnect' button.

Setting up an entry in the Site Manager
Either use the FileZilla XML Import file:
Open the Site Manager: From the menu choose 'File', then 'Site Manager...'. Alternatively click on the first icon in the toolbar
Create a new entry: Click on the 'New Site' button, rename the entry to something suitable
Enter the server details: In the General tab on the right, enter the 'Host' IP and 'Port' values. Then change the 'Logon Type' to 'Normal' and enter the 'Username' and 'Password'. Click OK
To connect, either open the Site Manager and double click the server name on the left hand panel or select the server from the dropdown arrow next to the Site Manager icon on the main toolbar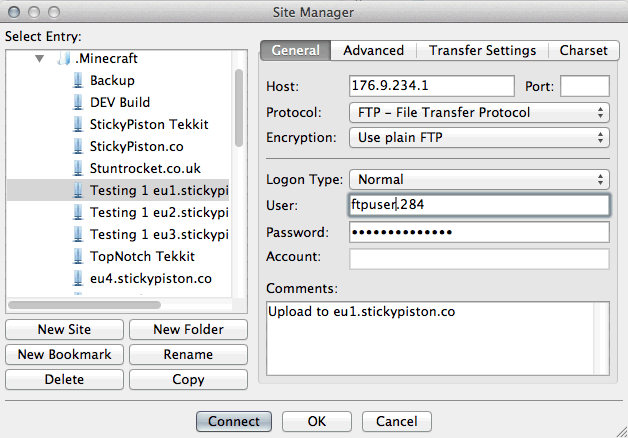 Using Filezilla
The main area of the Filezilla is split into 5 main panels.A directory browser and a directory listing for the local machine on the left, adirectory browser and a directory listing for the FTP server on the right, and a tabbed queue/status panel at the bottom.
Double-clicking a file on either side will upload/download a copy to the active directory on the other. Alternately, you can drag and drop files between the panels (and other windows if you opted to install the shell extension).
You can also queue files for transfer by right-clicking and selecting the 'Add Files to Queue' option. Process the queue using either: 'Transfer' and 'Process Queue' from the menu, Ctrl+P, or right-clicking the bottom panel and choosing 'Process Queue'. Queued items can be removed by right clicking on them and selecting 'Remove Selected'.