This guide will cover how to create a backup of your server's world files and how to download them for your own use.
It uses the Multicraft Control Panel and it's in-built backup function along with third-party FTP software such as Filezilla.
---
Contents
---
Getting Started
Why create a world backup?
There are a few reasons that a world backup can be useful to a server owner. They include:
Having a copy to use as a "rollback point".
Migrating your world to another server.
Sharing the world data with others.
Working on the world using tools not available on a server (For example MCEdit).
Testing plugins or mod changes on a different server before applying them to your main server.
Continuing to play on the world in single-player if your server has reached it's end.
What is contained in the world backup?
A world backup created by Multicraft is a .zip file and contains all the data from within your /world folder.
This includes:
All player data (Location, Inventory and XP).
world data (Generated chunks, player builds, time, weather, gameplay settings etc).
world_nether data (Everything found in the world data above but for the Nether dimension).
world_the_end data (Everything found in the world data above but for the End dimension).
A world backup does not contain any folders that are not found in the world directory. This includes:
Plugin files.
Plugin configuration files.
Mod .jars.
Mod configuration files.
Custom scripts or folders created by Mods/Plugins.
Resources or Resource Packs.
Server configuration files: (ops.txt, server.properties, bukkit.yml etc).
Server logs and crash reports.
Forge.jar and other server .jar files.
When creating a backup, a file named world.zip is created in the root folder of your server.
If a world.zip already exists then it will be renamed to world1.zip.
If world1.zip exists then that will be renamed to world2.zip.
If a world2.zip exists, it will be deleted.
How StickyPiston automated backups work
StickyPiston keeps backups of all our servers that are created and stored at the same time every day.
These backups take a "snapshot" of the server and contain all information found in the root directory not just /world.
If you want to restore your server to the last backup that was made by StickyPiston you can open a Support Ticket below.
Please give details of the reason or issues that you are having and we can attempt to fix it without having to rollback the entire server up to a potential 24 hours.
---
Creating the world backup
Stopping the Minecraft Server
Log into Multicraft through the StickyPiston website.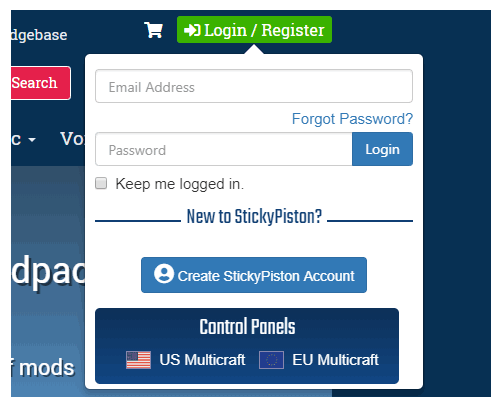 Click on the server you wish to backup.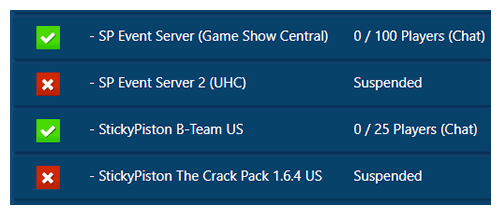 Stop the server.

Making the world backup
Make sure you are in the Multicraft server window (This displays the pack logo, player slots, RAM usage and other items)
In the navigation bar on the left, click on Backup.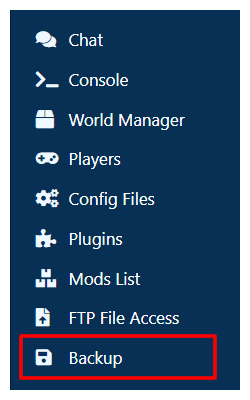 Click the Start button to begin your world backup.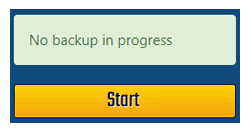 Wait for the Backup in progress, please wait message to disappear.
Restarting the Minecraft Server
Return to the Multicraft server window.
Start the Server.

---
Downloading your world backup
To download your world backup, you will need to install and use a third-party FTP program.
This is due to the size of the .zip file and the limitations of the Multicraft FTP panel.
We recommend Filezilla:
---
Restoring your Minecraft world from a backup
Once you have a world backup in your server's root directory, you can use it to restore your world back to the point that it was made.
This guide will take you through the process of Restoring your Minecraft World from a Backup.
---
Automating world Backups
The Multicraft control panel allows for automation of server tasks. One of these is to create automatic server backups at set times.
You can learn more about automated server tasks here: Scheduling Tasks on your Server
---
StickyPiston Support
Whether you own a Server with StickyPiston.co or not, we are always happy to help with any technical issues you may be having. Open a support ticket with our team and we will be in touch.

Open Support Ticket
---
Further Reading & External Links