Managing a Minecraft server can be a challenging task but StickyPiston has a fully stocked Knowledgebase that can help with a lot of it and our dedicated support team is on hand to help with server issues or questions that you can not find answers for. Just open a support ticket and we're happy to help.
---
Questions
Managing your Minecraft server
As a StickyPiston server owner, you have full access to all our server management tools.
The StickyPiston Knowledgebase
Our Knowledgebase contains hundreds of articles that cover every aspect of Minecraft server ownership. You can also find instructions for using the various Minecraft launchers as well as a lot more related to Minecraft in general. The Knowledgebase is free and browsable from anywhere: Check out the Knowledgebase.
The Multicraft control panel
We use the Multicraft control panel as a foundation for our server management. This is a web application that you can open in your internet browser and manage every element of your Minecraft server any time you like. We have also optimised the entire system for mobile devices so that you can use it on the go and manage your server no matter where you are.
---
Using the Multicraft control panel
The Multicraft control panel is a world-recognised application for managing Minecraft servers. We have built on the basic version with some advanced modules you won't find anywhere else.
Locating your control panel
As soon as you have access to a Minecraft server with StickyPiston, you will be able to visit and explore your Multicraft control panel. Simply click the Login/Register button at the top of the page and then select the appropriate control panel from US Multicraft or EU Multicraft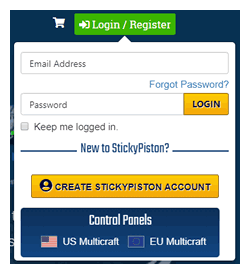 Using the Multicraft control panel
There are many functions to the Multicraft control panel and our support team is always happy to answer any questions you have. There are also guides available in the Knowledgebase. Some of the most used articles related to the Multicraft control panel are listed here:
---
Configuring your Minecraft server
Every part of your Minecraft server can be customised and edited how you like it. Our builtin tools make this even easier.
The server.properties
The main part of your server is it's server.properties. This is where you can adjust almost any setting on your server. We recommend you do this before starting your world as some of the settings require a new world to take effect. You can read more about the server.properties here: Editing your server.properties.
Configuring other options
There are a few other options that can be edited through the Multicraft control panel and you can even access configurations for mods and plugins too. For more information about configuring more of your server please look at the Server Management Guides section of the Knowledgebase.
---
Connecting and sharing your Minecraft server
The whole point of becoming a Minecraft server owner is to play with friends! We have some very easy ways to share not only the connection details but also your custom modpacks and configurations.
Sharing your server with friends
Making sure your friends can join the server is very important. From within your Multicraft control panel, copy the IP or the Friendly Address and send it to your friends. If they load the correct Minecraft launcher and version then they will be able to join your server in minutes. You can also setup a Whitelist to restrict access to the server by following this guide if you wish: How to use a Whitelist on your Minecraft Server.
Sharing your custom modpack
StickyPiston fully supports custom modpacks and plugin setups and we are more than happy to have them installed on your Minecraft server as well as providing ongoing support so that you can continue to play without interruptions. You can see the process for getting your custom modpack onto your server here: Making a Custom Minecraft Modpack.
---
Managing players on your Minecraft server
Managing players on your Minecraft server can be one of the most complicated parts of server ownership but StickyPiston has many systems and guides that can help.
Making a player into a moderator or co-owner
If you are looking to make another player into a moderator or co-owner on your Minecraft server then follow the steps in this guide: How to add a co-owner to Multicraft.
Banning or whitelisting players
Two ways to control access to your Minecraft server is using Whitelisting and the /ban command. These guides cover the steps needed to achieve these goals:
---
Backups and restoring your server world
It's easy to worry about things going wrong on your Minecraft server. Especially if it is open to the public or uses complicated modpacks/plugins. StickyPiston uses a backups system that should help you enjoy playing and not worry about trolls and accidents.
How StickyPiston manages backups
We take backups of all our servers every 24 hours and store them off-site. These start at around 2am (GMT) and will usually take around 2-3 hours to complete. From these backups we can rollback any server to that point at your request. Just open a support ticket and let us know if something has gone wrong.
How to make and use server backups
As a server owner you can also make your own backups with scheduled tasks. These can be set to any time frequency but we recommend between 6-12 hours as a minimum t prevent lag from large files and bloated backup folders. Read this article to find out how to setup your own automated tasks: Scheduling Tasks for Automated Server Management.
---
Mods and Plugins server support
StickyPiston provides full Modded and Plugin support to all our server owners and we'll even help with setup and making sure your server continues to run smoothly.
Mod support for your server
We currently support almost every modpack from the following Minecraft launchers: FTB, Twitch/Curse, Technic, ATLauncher, Voids Wrath. Alongside our custom modpack support and growing library of modpacks in the Click and Play system, you will be spoiled for choice. You can learn more about click and play here: Click & Play with the One-Click Installer and find out about custom modpack support here: Making a Custom Minecraft Modpack.
Plugin support for your server
StickyPiston provides support for any supported plugin from legitimate sources. This includes: Sponge, SpongeForge, Cauldron, Spigot, Bukkit. If you would like plugins installed on your server, you can use our builtin tool following this guide: Making a Custom Minecraft Modpack or open a support ticket if you have custom plugin requests.
---
Our other FAQs
This is just one of the FAQs available in the Knowledgebase, alongside hundreds of other guides and tips for server owners. Whether you own a server with StickyPiston, play on the Free Trials or have a server hosted somewhere else, the Knowledgebase is open to you and our support team will always help as much as they can if you open a ticket.
---
StickyPiston Support
If you have questions about this guide or our Minecraft services, open a support ticket and our dedicated team will be in touch.

Open Support Ticket